Layering images – Image of the week 10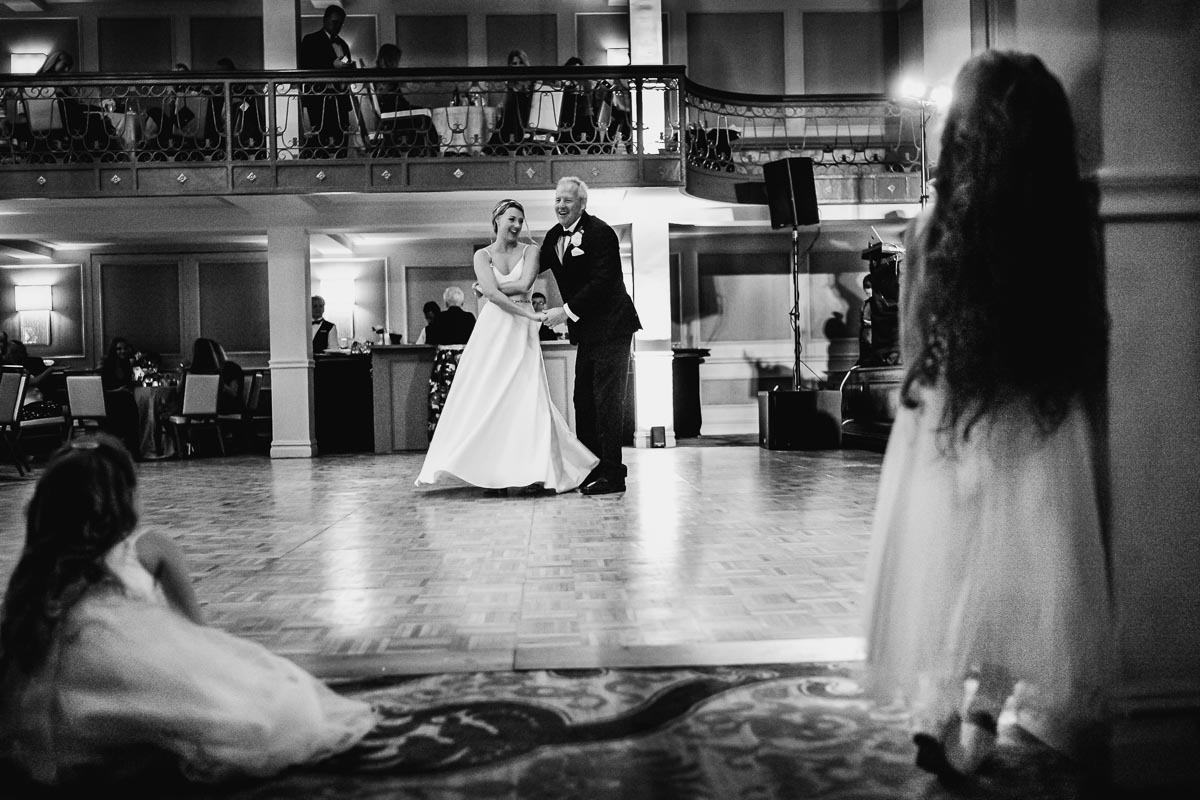 This weeks it's all about layering! Stuck inside during COVID-19 lockdown, I thought I would have so much time to shoot mini-projects. But in reality, I've been busier juggling kids, online school, cooking, and everyday household chores; time is getting away from me. Plus, um, making those homemade Old Fashioned's. Yum! Actually, no, I don't know how to make those. I just drink them! I'm behind these weekly blog posts. If this is your first time visiting, the image of the week series can be found here.
I've always been fascinated by story-telling and have loved photojournalism since I was a kid. I remember getting large-format documentary magazines delivered in the mail and feeling overjoyed by the creativity and grittiness of the images.
So why is this click image of the week and a top favorite of the year? I'm drawn to images that look seemingly simple, but as is often the case, challenging to capture. Here, the focus is on Alison, our beautiful bride, and her father during their joyous first dance (full blog post is here). My back was literally up against the reception wall when capturing these with a 35mm f2 summicron lens. I clearly remember asking the serving staff to move so I could get the shot and getting a glare back as I asked repeatedly above the din of the music. They were not amused! At first, the flower girls noticed me but eventually placed their attention back toward the subjects. Below is the contact sheet of the shoot with my preferred image marked. You'll see a little boy staring at me as I start to capture the sequence:-)
If I witness a moment like this, I can anticipate to a certain extent what may happen. Still, I'm ready to react to anything, hence why I like to shoot a sequence, reframing between shots. Shooting with a purpose vs. a spray and pray is my preferred method when working a scene.
I love multi-layering my images and tell the story in the most profound way possible, so it looks like a window into the soul. Layering gives a sense of scale and purpose. The hurdle is to capture these moments in real-time without interactions from the photographer. If I can do this in one shot, then hopefully I've achieved what I set out to do.
The key is to see the image before bringing the viewfinder to your eye, take care framing, and watch for the corners of the frame to avoid unwanted distractions.
If you enjoyed this, please let me know your thoughts below, and thanks for reading. You can also hit subscribe and catch all the posts.
---