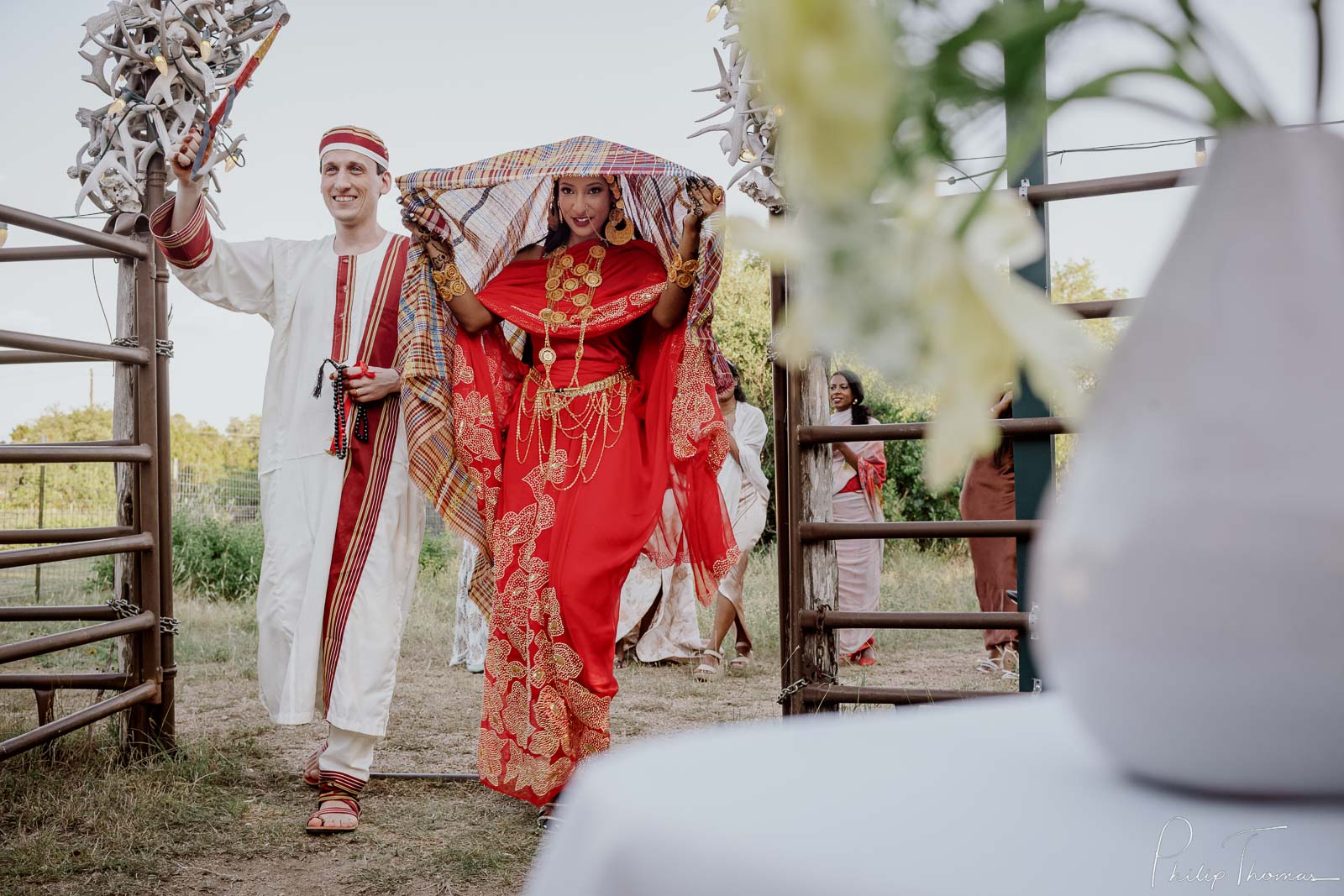 An American-Sudanese-German multi-cultural wedding celebration brought families together for Bertan and Hazar. The happy couple tied the knot at Hudson Bend Ranch in Austin. The venue, best described as a cross between Botanical Gardens and a working Texas ranch, is beautiful.
Bertan's parents, siblings, and friends arrived from Germany, with Hazar's family from Sudan. There were two ceremonies, a western wedding and a Sudanese Jertik ceremony. It was essential to Hazar to keep the ancient Sudanese traditions alive. The bride and groom wore traditional Sudanese clothes. The bride wears a red tobe, and the groom wears a beige jalabeya. The bride and groom have henna on their hands and feet.
During the Jertik, traditionally one of seven ceremonies, the bride and groom sat on a red sofa where the mothers and grandmothers applied spiritual spices on the faces and heads of the newlyweds. Then the bride and groom spat milk on each other to represent protection and commitment. This game is played, and the fastest spitter wins (Hazar won this fun game). During the ceremony, music and singing rang out blessings to the newlyweds. Shortly after, the groom stood up and threw sweets into the air to the children to thank them for their presence. The reception carried on into the evening with dancing and fabulous food.
Thanks to Anthony Gauna, the second shooter for the day and an extraordinary photographer. I have so many favorite moments; probably one of my favorites is the couple relaxing before the Sudanese ceremony by the Airstream caravan. I hope you enjoy the set of images.
Venue: Hudson Bend Ranch
Wedding Planner: An Event To Remember
Haor+Makeup: Luxe Beauty & Bridal
Photographer: Philip Thomas
Videographer: MobilBoheme Wedding Films
Florist: Six Pence Floral
Catering: Aleppo's Gate
Cake: Whole Foods
DJ: Look No Further