Image of the week 3 – Juxtapositions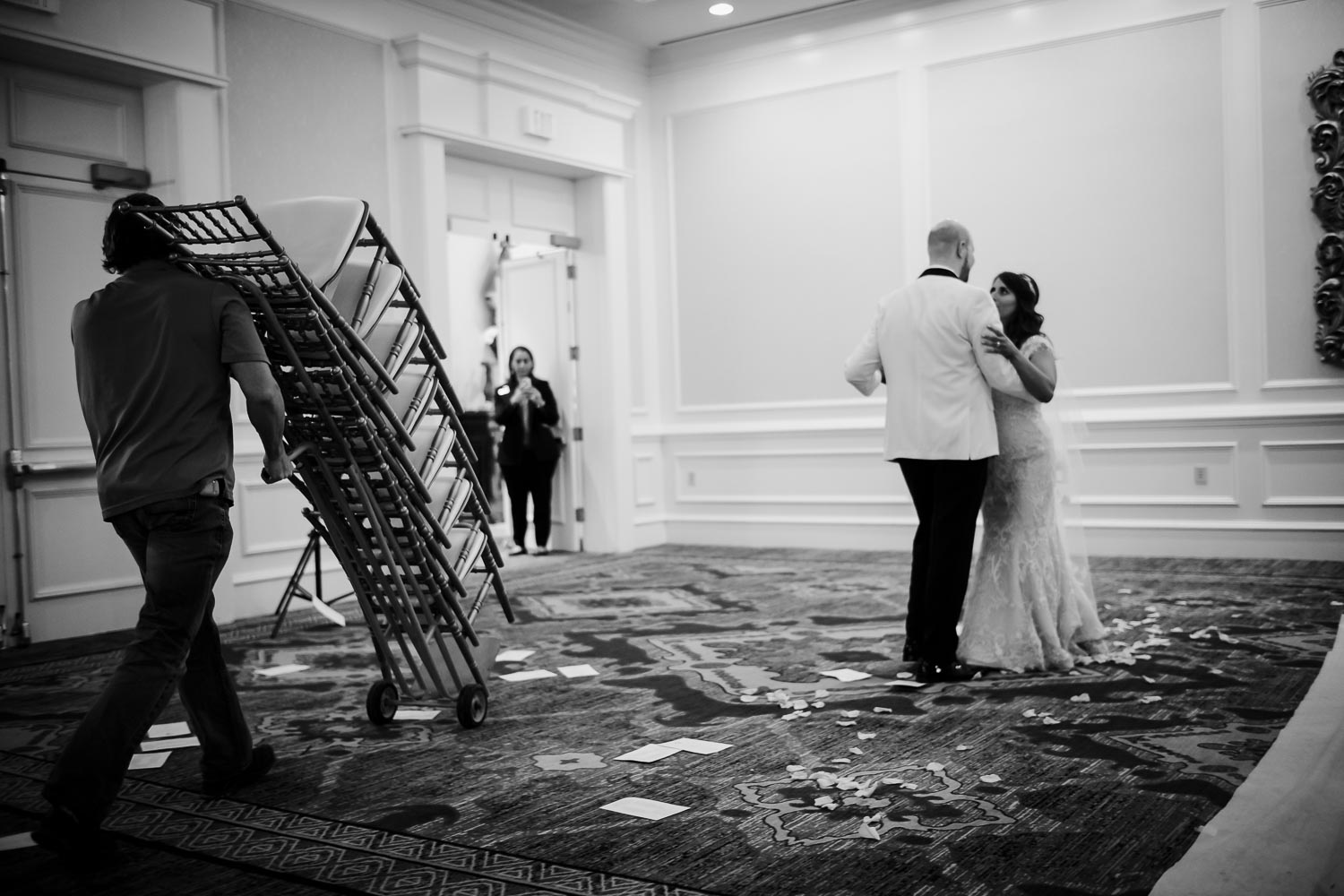 I love winter weddings for their low light. Thankfully, here in south Texas, we have a few weeks of cold weather, sometimes we will get ice and every ten years, maybe some snow. Nevertheless, many weddings are inside at this time of the year, which forces me to push harder to find exciting juxtapositions and compositions. This image was captured earlier this month at wedding ceremony room at Westin Riverwalk. The chairs were removed from the ceremony ballroom and moved to the ballroom adjacent. The couple decided they wanted to rehearse their first dance. The couple alone practicing was lovely enough, but I enjoyed adding the additional elements of the high stack of chairs to add to the story. I moved myself to get into a position when I could have the guy pushing the chairs away and the couple down the right side within the environment to make the design of the overall image much more enjoyable. I love the juxtaposition of these two subjects, the chairs on the left and the newly married couple trying to find a quiet moment to practice their dance moves.
Wedding photojournalism is about honesty, and special moments, My images don't follow trends, and they're not fashionable. If anything, they're stylish and timeless, hoping to retain a freshness to them just as we love photos from photojournalists. Most of my work is divided into three strategic areas; anticipation, reaction, and random moments. I'll pick up on these strategies on how to capture these images in my next post. Seeing the moment, or the decisive moment is what I think about all the time and not just when I have my camera.
This image captured with the camera: Leica M10-P 35mm Summilux – exposure- f1.7 @ 1/125
Never miss a post. If you'd like to keep these weekly posts coming, fear not, you can sign up below, and you'll receive a weekly email. If you have any questions, please leave a comment below.