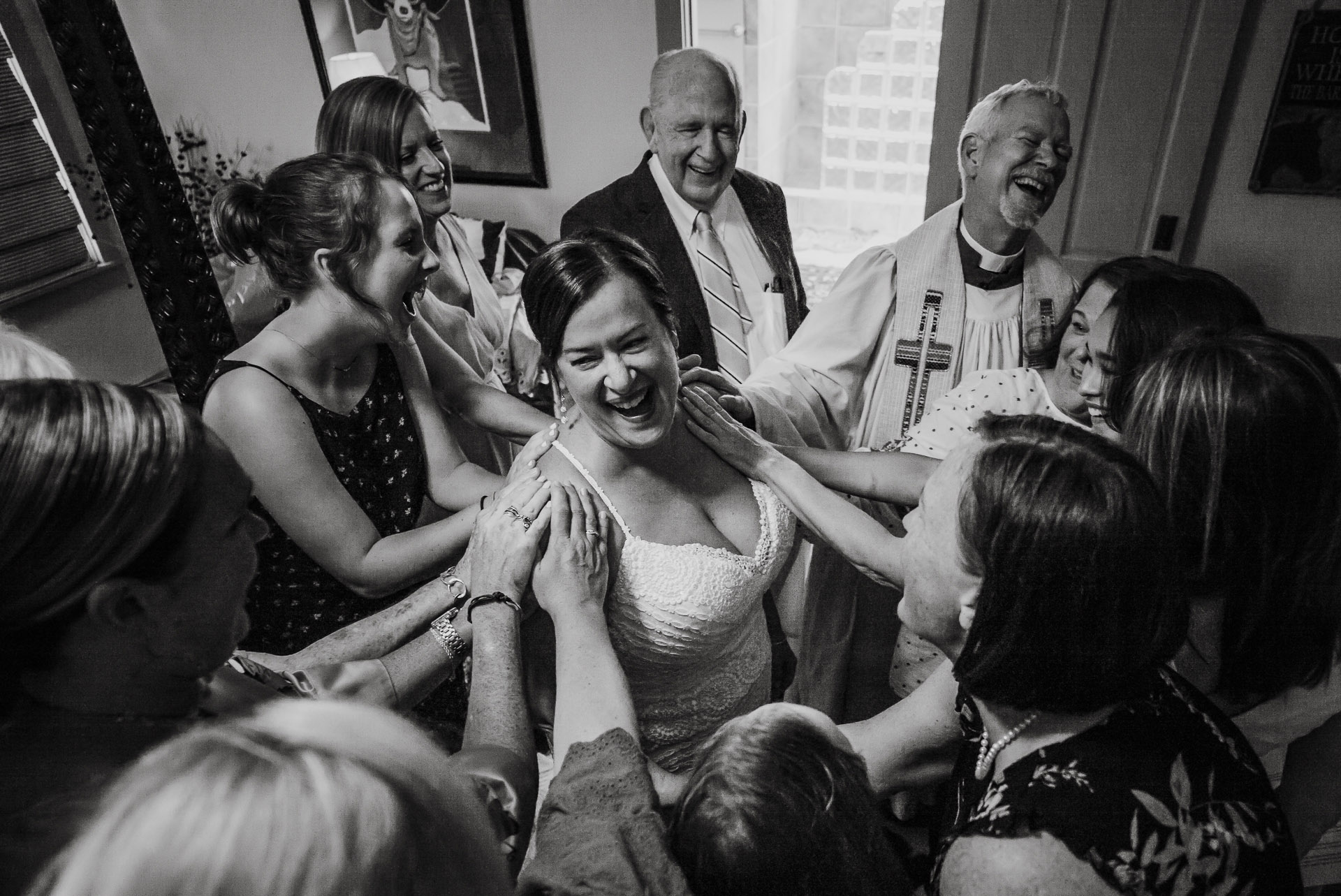 First, I'd like to write a very Happy New Year to all my readers of this blog. Today's the day, 15 years ago, I arrived in the U.S.A to join my wife and live in San Antonio, Texas. So, in celebration of that and new for 2020, I'll be posting a favorite image each week and be giving my thoughts and processes behind each image. I'm hoping this will give folks an insight into what makes a good wedding photo and what I was thinking moments up to squeezing the shutter, including my thoughts on the wedding industry and what it takes for a photographer to be successful. Much of my lifelong experience with photography has taken inspiration and learnings from Henri Cartier-Bresson, among other photojournalists.
If you've been following along for a while or attended any of my wedding photography presentations, you'll know the backbone for my style is designing images using geometry and composition by anticipating moments.
On this occasion, as the prayer circle started, I grabbed a rickety old chair in the room and stood on it, hoping it wouldn't break. The Leica rangefinders are incredibly quiet and small, so I feel like I can do things others may make a bigger splash. What makes the picture a powerful one is the reaction of the priest, father of the bride (top center), and the brides' response to a joke after a pre-wedding prayer. I'm always looking for, among other things, contrast, geometric shapes, movement, and diagonals. There is a circle that creates its energy, along with emotion within the frame that I love.
This image, captured with a Leica M(240) and a 21mm lens during Dru and Kerry's wedding is one of those moments I knew was going to happen. When photographing fluid moments like these, you have to see engaging moments as soon as you start shooting a couples day, ready to pounce like a cat, anticipating, and listening to your environment. How do you do that? With experience, a photographer's skill set will improve. I have honed my skills and never stop learning, from reading books to shooting my projects like downtown street photography. Joe Buissink, a fantastic photographer, often talks of 'neurochromes' - the act of taking pictures without a camera. Even if you don't have a camera or an iPhone, it doesn't matter; take a click in your head as you see moments, and you can train your mind to see moments. Click, click-click! Just don't say it out too loud:-)
For me, I'm always looking to try and bring something different and capture an exciting picture.